Accordian Bifold Doors Brisbane
Aluminium Bifold Doors Brisbane
Aluminium bifold doors help create more flexibility in shop front doors and shutters. Designed around the concept of an accordion folding open and closed, these widely used doors are highly versatile and capable of fitting any openings up to 4.2 metres high and any width. They are wonderfully appealing as well as functional, and they are well-known for their smooth, reliable operation and easy access. We supply aluminium bifold doors Brisbane all around South East Queensland, and this type of door as supplied by Prestige Doors is the favourite product of choice for:
Shopping Centres
Retail Stores
Arcades
Sporting Complexes
Clubs & Bars
Bifolding doors are very flexible, and as you can see from the list above they can be used for many different purposes and are readily adaptable to change. They are not just limited to use on the outside of a shop or retail outlet; they can also be used inside to help separate or close off a room. This is extremely useful in many cases and allows you to create organised sections or to make a very large, open space feel more private and intimate.
If privacy is something you are after, then we have a number of options to make sure your aluminum bifold doors in Brisbane are suited to your purpose. While clear glass on the doors or shutters may not be the best solution, translucent or frosted glass is a great way to create a private environment while still having all the aesthetic and functional qualities of traditional bifolding doors.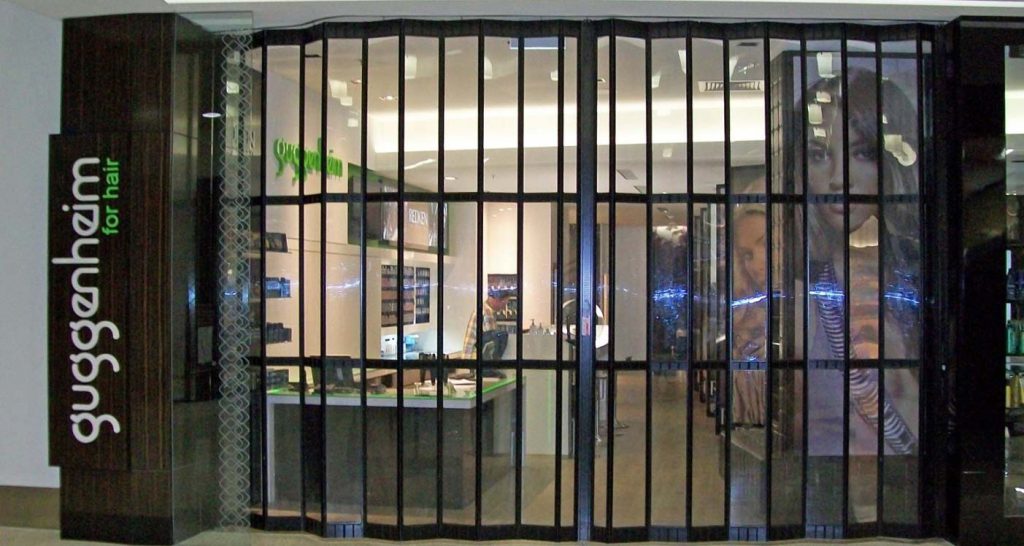 Operating your Bifolding Door
The bifolding door is a manually operated door system which you open and close by hand. The door can be single stacked to one side, giving maximum opening space, or separated to each side of the opening for more control over the entry way.
The doors are supported by a 35mm (w) x 43mm (h) extruded aluminium overhead track. Each alternate panel is fitted with a heavy duty bearing which provides smooth and easy operation.
The leading frame is constructed from a 2 piece specially designed 54mm x 32mm aluminium extrusion and cover plate which houses the locking system. The superior lock design has a removable cylinder which can be replaced to suit your keying requirements, and the locking system is covered by a custom made fascia providing extra safety and security to the lock. Locking stiles are generally placed approximately every 2 metres, depending on the opening width.
The panel frame and guides are provided in a natural anodized finish, but can be powder coated as an option in a range of available colours. Prices are available on request. Polycarbonate infills are also available in a variety of different finishes, such as opaque.
Powder coating helps give your aluminium bifold doors Brisbane a fantastic, durable finish. It is a method that is applied electrostatically as a dry powder, which makes it very different from a traditional liquid paint job as it does not require a solvent to keep the different parts of the liquid in suspension form. It is much more resilient than the traditional painting methods and creates a tough, hard finish, which makes it a preferred and longer lasting technique for commercial and industrial use. Powder coating is typically used for covering metals, which is why we recommend it so highly, as our bifold doors are aluminium.
Please contact us for more information on our various options and the different pricing structures available.
Advantages of Bifold Doors
With so many types of doors and shutters available on the market, it can be hard to make a decision about which one will best suit your needs. Our aluminium bifold doors Brisbane can offer you a range of benefits: